Valentine's day is coming up soon and chances are you're looking for some fancy way to impress your partner and add a classy touch to your at-home date.
So, how about spicing up your romantic at-home Valentine's dinner by preparing some tasty easy to make yet classy cocktails?
We carefully selected 5 ingredients known for their stimulating effects and paired them with 4 of the most unique, independent spirits within our portfolio. The result? 4 classic-inspired cocktail recipes that will transform your evening, boost your energy, and please your palate.
Valentine's Basil Smash
World famous bartender Jörg Meyer, owner of the award winning Le Lion bar in Hamburg, is the father of the Gin Basil Smash. He created this delicious concoction 2008 and it soon became a Classic, known and shaken all around the world.
Basil is an Indian native plant that has spread all around Asia and Europe. It's a popular herb in many cultures, a well known stimulant…and aphrodisiac! It's really easy to find basil at your local grocery store. All you have to do is to add a bunch of basil leaves to your cocktail shaker with this simple twist on a Gin Basil Smash.
In this fruiter but still elegant version, we swapped a classic London Dry Gin for Raspberry Ghost by Greensand Ridge Distillery. Greensand Ridge Distillery is the UK's most sustainable distillery. This spirit is a distilled maceration of surplus raspberries which are locally sourced in Kent. Raspberry Ghost preserves the fruity tartness of this popular fruit in a delicate, cleaner way compared to other flavoured spirits or liqueurs. This makes it a perfect ingredient to pair with the fresh aromatic notes of basil. 
The result ? A fruiter version which is still as boozy and punchy as the original one. Remember to give your drink a firm 30 second shake and to fine strain into a chilled coupe glass…if you shake basil leaves for too long their flavour will turn bitter. 
How can you make it?
50ml Raspberry Ghost
25ml Lemon Juice
15ml Sugar Syrup
1 bunch Basil Leaves
Add all ingredients into a shaker  filled with ice
Shake for 30 seconds
Fine strain into a chilled coupe glass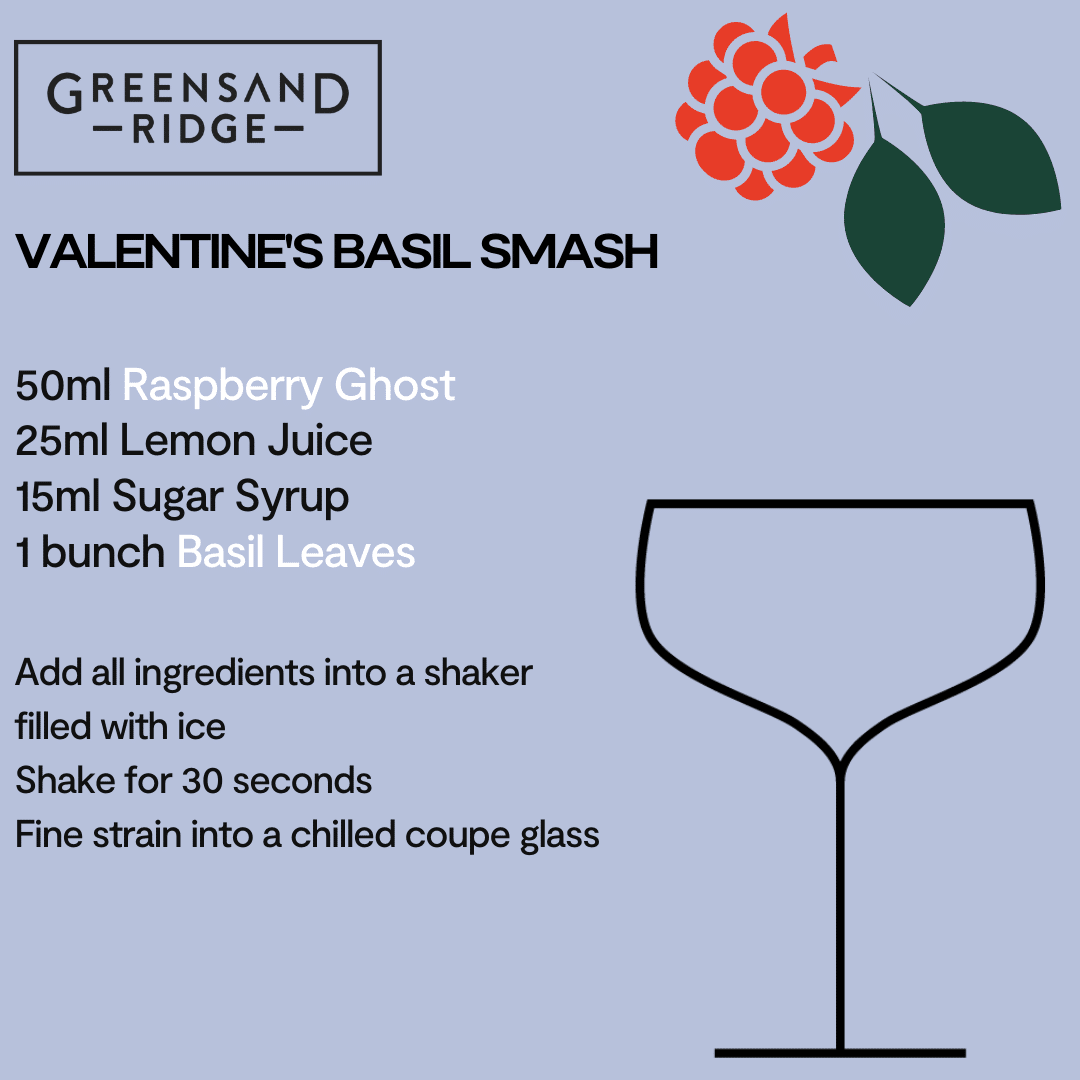 Western Cape Dandy
Chocolate and coffee are a perfect combo when thinking about your Valentine's dinner. They both promote the production of endorphins, the pleasure hormone. Chocolate and coffee will boost your energy, help you to feel more connected with your loved ones and make your romance last longer, they're also the perfect ingredient to combine for an after dinner cocktail. This combination of ingredients really stands out. And it  will play well with what's left in your palate right after that really expensive bottle of tannic red wine you kept for this special occasion.
 These two acidic and bold flavours pair very well with the most unusual independent gin in our portfolio: Inverroche Amber. Inverroche Amber takes its colour from a long infusion with South African sour figs shells, also known as hottentot figs. They're the fruit of a succulent plant that grows in the Cape Western Region of the South African Fynbos.Its flavour is sweet, tangy and slightly salted, the outer shell has a distinctive woody aroma when dried . And sour figs shells are the ingredient that gives this gin a bourbon-like long finish.
We've taken inspiration from one of the kings of the after dinner classic cocktails, a favourite of bartenders all around the world, the Boulevardier. Most bartenders will admit that Boulevardier and Negroni are two cocktail staples and if you like one of them, you like both. These cocktails share vermouth and Italian bitter, but they have quite a different character. 
 The creator of the Boulevardier cocktail is Harry McElhone, an American bartender expatriated to Paris during prohibitionism. Harry, founder of the historically famous Harry's Bar, created this cocktail while inebriated by the new set of European ingredients which he never saw or heard of. Like Campari and sweet vermouth.
This recipe combines Inverroche Amber Gin with sweet red vermouth, an easy-to-do Campari and cocoa nibs infusion and a touch of cold brew coffee liqueur.
 The result? A bold, after dinner cocktail with woody depth combined with
How can you make it?
30ml Inverroche Amber Gin
25ml Cocoa Nibs Infused Campari – infuse a big tablespoon of cocoa nibs with 250ml campari for a couple of hours. Shake it a few times during the process. You can easily source cocoa nibs at most specialist food stores.
15ml Sweet Vermouth
10ml Cold Brew Coffee Liqueur
1 small pinch of salt
Pour all ingredients into a mixing glass filled with ice
Stir for 30 seconds
Pour into a chilled nick and nora glass
 Garnish with an orange peel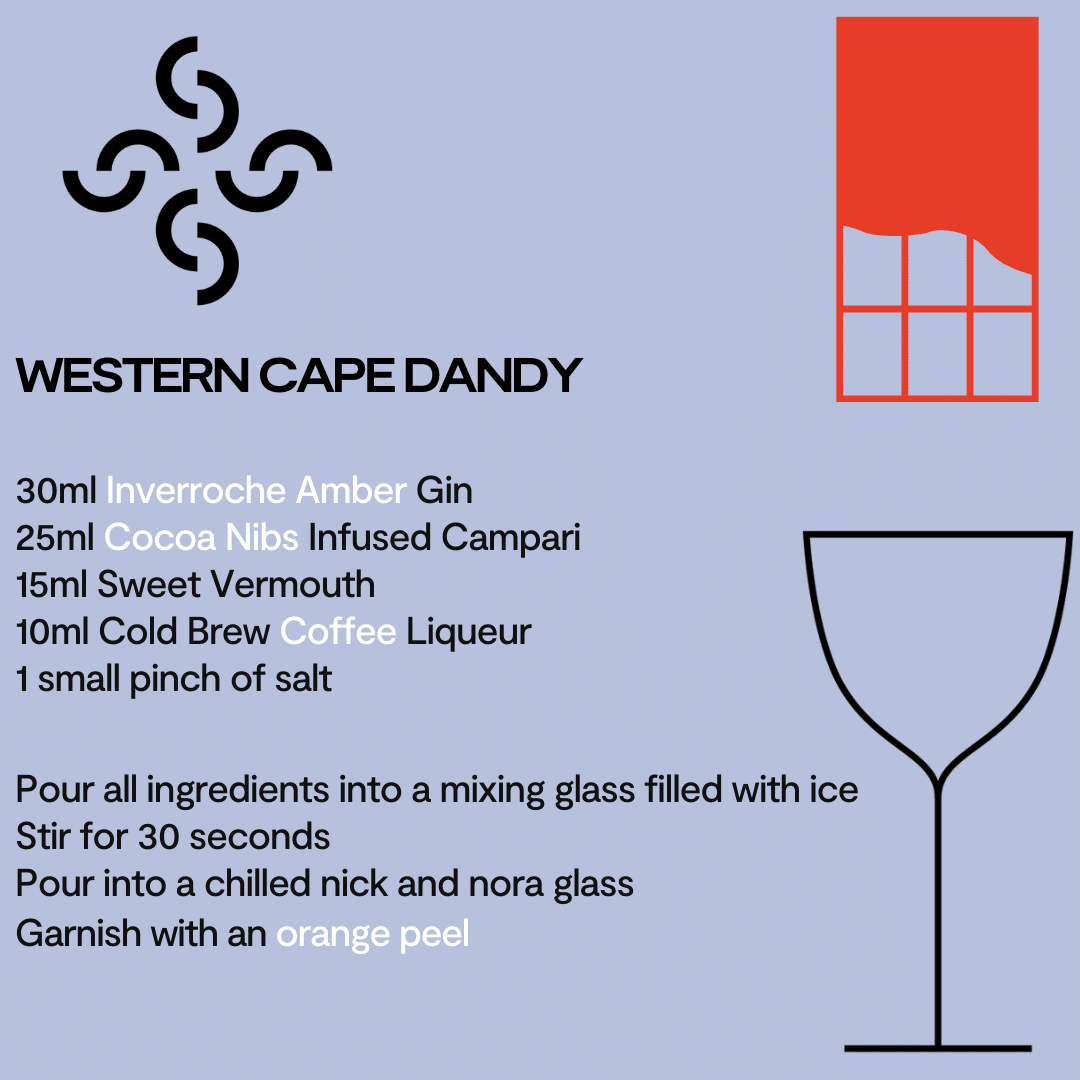 Spiced and Stormy
The heat that you feel when you eat chilli peppers comes from a chemical compound called capsaicin. The hotter the chilli, the more capsaicin in it. Capsaicin has a wealth of benefits, some of which include speeding up your metabolism (therefore burning fat), controlling insulin spikes and reducing inflammation. But, most importantly, it promotes the production of testosterone and increases libido: a perfect recipe to spice up your romance.
Chilli can be a quite complicated ingredient to manage in drinks, its sweet flavour combined with the right amount of spiciness can be a great addition to transform a simple drink into a flavour bomb.
The spice from chillies can be overpowering. That's why we are using honey as a vehicle to incorporate chilly in this delicious highball drink. Honey is a great ingredient to use as it adds sweetness, brings out the sweet pepper-like chilli flavour and brings the spiciness to a milder, yet stimulant, level. And its flowery notes perfectly pair with the botanical bouquet of Market Row botanical rum.
Market Row, is a sugar free rum redistilled with botanicals. It's a modern, cleaner version of a spiced rum. The guys at Brixton Distillery distill a blend of 5 different rums infused with 9 botanicals sourced in the Brixton area. Two of which are hibiscus flowers and rose petals. Market Row brings together the character of a good rum with the complexity of a botanical spirit, making it the perfect choice for long highball cocktails.
Here, we balance the sweet chilli infused honey with the sour tartness of lime juice and top everything up with ginger ale. To prepare chilli- infused honey we suggest you choose  a chilli that has the spice level that you like the most. If you think your chillies are too spicy, simply boil them in water for 2 minutes and then soak them in ice for another 2 minutes. Repeating this process will make your chilli milder while keeping its characteristic flavour.
You can then add your chillies to a hot pan, roast them for a couple of minutes, add honey, switch off the hob and let the infusion happen for a couple of hours. Again, the longer you let the chilli infuse, the stronger the flavour and spiciness you'll get.
Recipe
50ml Market Row Rum
1tbs Chilli Infused Honey
15ml Lime Juice
Top with Ginger Ale
Pour rum, honey and lime into a highball glass
Stir well until honey is dissolved
Fill glass till the top with ice
Pour ginger ale
Garnish with one small chilli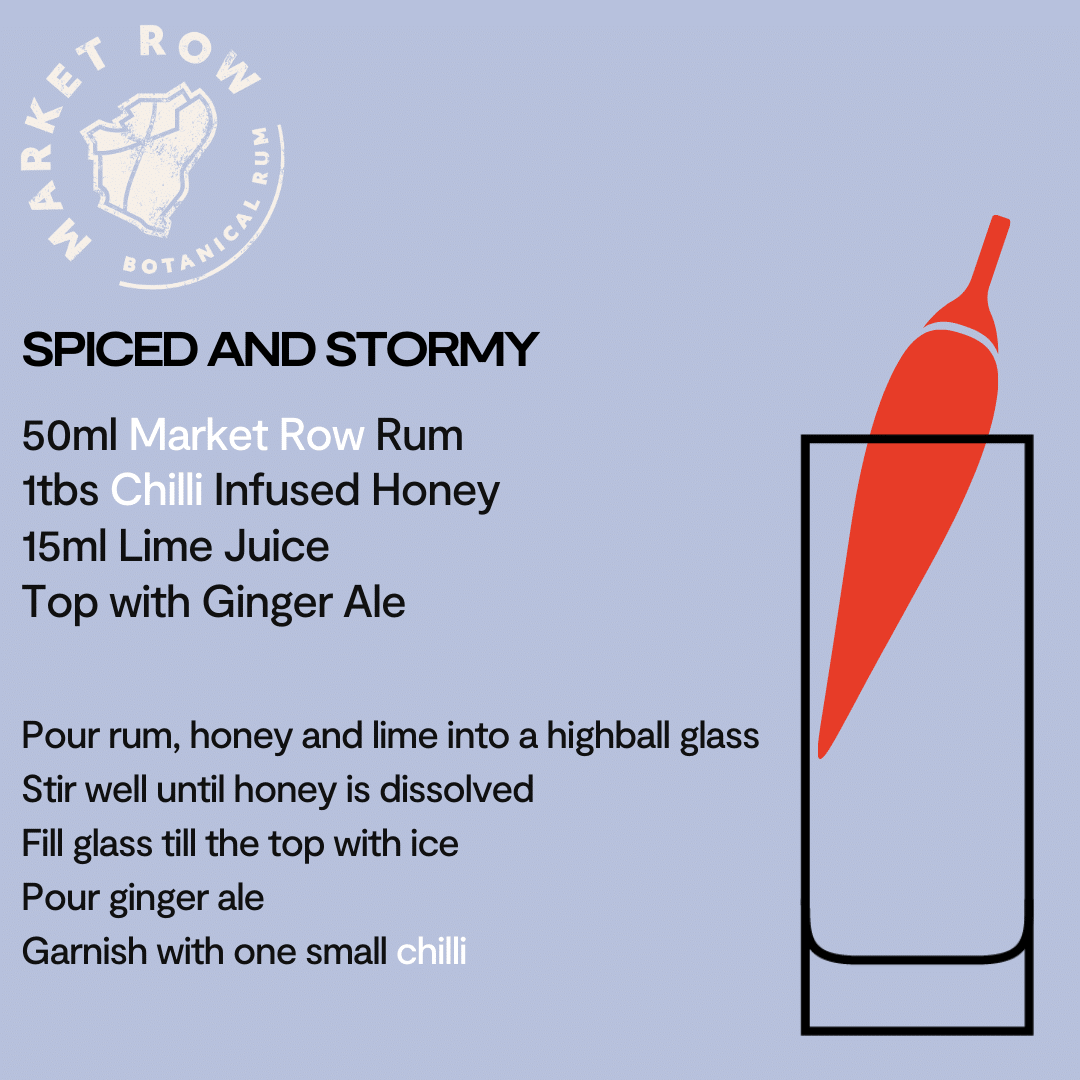 Oyster Martini 
And finally: oysters! People have believed in oysters' aphrodisiac properties for centuries. This belief started with the Roman Empire. It then became popular during the 18th century when Giacomo Girolamo Casanova (who notoriously enjoyed oysters) publicly praised their virility boosting effect.
Myth or not, oysters are a fancy addition to any special dinner: their light yet salty taste is an explosive flavour that seafood lovers simply love. Pairing oysters and martini is a luxurious way to enjoy a few pre-dinner drinks, something you can order in the most iconic bars around the world. 
In this recipe, the bar team at Bob's Lobster, one of the most popular American seafood restaurants in London, came up with the brilliant creation of a real Oyster Martini. The idea? Swapping the olive brine for the briny oyster liquor you can pour from the mollusc's shell itself for a twist on the well-known Dirty martini. 
The umami notes of this special 'oyster brine' play a fantastic flavourful tune when bonded together with Manly Spirits Marine Botanical Vodka. This unusual savoury vodka is the perfect pairing for seafood. The two key botanicals are Sea Parsley and Beach-cast Kelp that the distillery forages on the Australian beaches of the Manly Area in Sidney. The sweetness of Dolin Blanc vermouth balances the umami notes of this twist on a martini cocktail
Recipe
50ml Manly Spirits Marine Botanical Vodka
15ml Dolin Blanc
1 Rock Oyster
Pour vodka and vermouth in a shaker
Add ice and stir into a shaker for 30 seconds
Strain into martini glass
Carefully shuck oyster and pour the briny liquor from the shell
Garnish with lemon twist